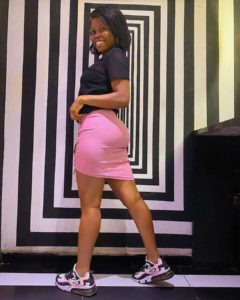 Odumewu Deborah Sunmisola popularly known as Odumewu Debbie is a Nigerian professional dancer and choreographer well known for her Guinness World Record for the longest dance marathon.
Odumewu is a 25 year old. dance performer, exhibitionist and media influencer.
She's a graduate of policy and strategic studies from Covenant University
She started dancing at the age of 6 and draws inspiration from her mother who constantly supports her.
Debbi broke the Guinness World Record of the dance marathon which currently stands at 123 hours and 15 minutes achieved by Kalamandalam Hemaletha at the Kerala Sangeetha Nadaka Academy in Thrissur, Kerala in India from 20 to 26 September 2010.
READ ALSO: Monalisa Stephen Biography: Age, Profile & Pictures
Odumewu Debbie has now set the new Guinness World Record of "Longest dance marathon by an individual" which lasted for 137 hours.
Social Media Profile
Instagram @pinkidebbie
Twitter @Pinkidebbie