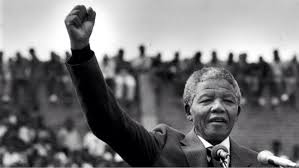 Nelson Rolihlahla Mandela was a South African activist, lawyer, politician and philantropist, who served as president from May 10, 1994 to June 16, 1999.
He was the country's first black head of state and the first elected in a fully representative democratic election.
Mandela who was preceded by F.W. de Clerk and suceeded by Thabo Mbeki, had also served as the president of the African National Congress (ANC) party from July 7, 1991 to December 20, 1997.
Here are the other 10 interesting facts about him.
1. Nelson Mandela was born on July 18, 1918 and died on December 5, 2013 at the age of 1995.
2. He was also known with other names like Madiba and Dalibunga.
3. He was to the Thembu Royal family in Mvezo, British South Africa.
4. He married three times, first in 1944 to Evelyn Ntoko Mase and divorced in 1958, second in 1958 to Winnie Madikizela and divorced in 1996 before he got married to his wife, Graca Machel, the first education minister of Mozambique, till death.
5. Mandela had six children including Makgatho, Makaziwe, Zenani, and Zindziswa.
6. For his education, Mandela studied law at the University of Witwatersand and University of Fort Hare.
7. He was given a nobel peace prize award in 1993.
8. Mandela also served 27 years in Prison before he was released in 1990.
9. Mandela was known for his Anti-Apartheid movement.
10. Lastly, we could remember Mandela for his quotes such as; Education is the most powerful weapon which you can use to change the world, I learned that courage was not the absence of fear but the triumph over it.