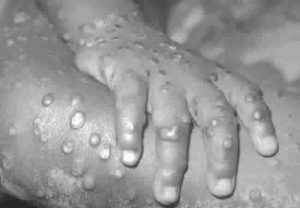 Monkey Pox is an infectious disease which is usually contacted from eating animal meat or contacted from coming close to infected animals like Monkey.

The symptoms of the monkey pox virus varies from feeling tired, feeling feverish and developing headache.
The symptoms which has a duration of two to five weeks is followed up with rashes whcich looks like the normal disease in humans like Chicken pox and Small pox.
The first case of the disease in Nigeria was recorded in Bayelsa where samples of it were sent to laboratory in Sengal before the disease had spread to various part of the country including Akwa Ibom, Rivers, Lagos, Ogun and Cross River.
The disease which is caused by coming close to the affected animals, could be transmitted from persons to persons, thereby making it contagious or infectious.
However, the name Monkey pox came as a result of the diseases being first discovered in Monkeys.
Moreover, Monkey pox was first ifentified in 1985 by the State Serum institution Copenhagen, Denmark with the first human case being recorded in Democratic Republic Of Congo.
So the real questions comes down to how can prevent yourself from this infectous disease?
Maintain good hygiene with or without contact with infected animals or humans.
1. Always wash your hands with soap and water and even hand sanitizer.
2. Avoid contact with any infected person or animal
In conclusion, the deadly disease which stillprove to have no cure at the moment is worth preventing as the popular adage says; "Prevention is better than cure."