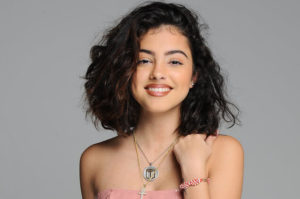 Maria Luisa Trevejo popularly known as Malu Trevejo is a Cuban singer, dancer and social media sensation born on October 15, 2002.
Malu was born in Havana, Cuba and raised by her parents in Madrid, Spain but now resides in Miami, Forida.
Her father is Spanish while her mother is Cuban.
She is quite beautiful, smart and attractive with a curvy figure. She also has a height of 5 feet 4 inches and weight is 50kg.
She became known for belly dancing on video sharing app, musical.ly.
Malu came to limelight on social media in 2015 and came through with her debut single "Luna Ilena" in September 2017 as produced by the Fliptones. The song was accompanied with a music video that boast of over 60 million views on YouTube.
She followed it up with her second official single "En Mi Menta" in December 2017. She also collaborated with HRVY on the single "Hasta Luego" in 2018.
Malu is one of the most influential Cuban recording artist and public figure on social media outlet.
She is also well known for her songs and Vlogs.
READ ALSO: Cindy Crawford Biography: Age, Family, Net Worth & Pictures
Malu had released 4 tracks EP titled "Una Vez mas" on August 2, 2019.
Malu previously dated Jaden De Laroja in 2018 and she's said to be in a reationship with Danny Alfonso in 2019.
Malu Trevejo is a socialites who has up to 6 tattoos such as
Arabic name on her upper shoulder
Paw prints in her wrist
Rose on her wrist
Treble clef on her waist
Poem on her upper arm
Ocean Eyes on her chest
Social Media Profile
Instagram – @malutrevejo
Twitter – @malutrevejo
Facebook – Malutrevejomusic
YouTube – Malu Trevejo