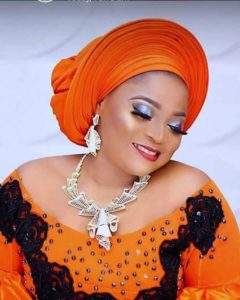 Kikelomo Esther Ayoola well known as Kikelomo Ayoola is an award winning Nigerian actress and movie maker born on March 26.
Kikelomo originally hails from Osogbo, Osun State part of Nigeria
She was raised in a polygamous home and her mother is the second wife.
She is well known for her highly captivating roles and boldness in front of the camera.
She's simply an epitome of beauty and decency in her lifstyle which is complimented with a good sense of fashion.
Career
Kikelomo Ayoola started acting with her first role in the movie "Ta lo pa Jesu".
She has featured in other movies such as; Iyanje, Alomoko, Ijesha Ni Ere, Aworan, Ebu Ika, Sekunmiderin, Samia, Oko Longe, Asotole,Eni Aye Kan, Idakeji Aye and so on.
She has worked with top actors such as Toyin Adewale and Muyiwa Ademola.
Aside acting, Ayoola is also a business oriented personnel and owns a mini superstore in Lagos.
READ ALSO: Biola Adekunle Biography: Age, Husband & Pictures
Awards & Nominations
Kikelomo Ayoola talent has earned her an international recognition; Best Female upcoming actress of the year at the 2017 TAMVAA Awards, South Africa.
She also got nomination for City People Movie Award for Best New Actress of the Year (Yoruba).
Social Media Profile
Instagram @ayoolakikelomo
Twitter @FirstladyAyoola