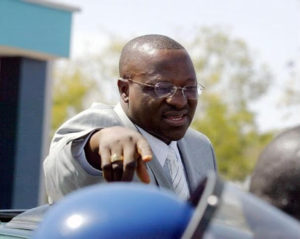 Joshua Chibi Dariye who is simply known as Joshua Dariye is a businessman and Nigerian politician born on July 27, 1957.
Dariye who hails from Plateau state, was born in Bokkos local government area of Plateau state.
He is married to his wife, Valentino and their union blessed with four children which include Nanle Miracle Dariye, Ruth Dariye, Joy and Ebenezer.
His son, Nanle Dariye wedding to Chioma Ararume was an exciting one attended by lots of dignitaires across the country.
Joshua Dariye was the former governor of Plateau state who came into office on May 29, 1999 under the People's Democratic Party (PDP).
After his first four years, he got re-elected in May 2003 but was impeached in November 2006 as his deputy, Michael Botmang now became the governor.
Howver, the impeachment was nullified by the Nigerian court of appeal and Dariye was ordered to be reinstated with immediate effect.
With his reinstatement, Dariye's term in office as Governor of Plateau state came to an end on May 29 2007.
Moreover, Dariye was arrested in London in January 2004 after he was caught with large sums of money.
READ ALSO: Fela Durotoye Biography: Wikipedia & Net Worth
During this time was his position as the governor of Plateau state on which nothing could be done as serving governors have immunity from criminal prsecution and the Economic and Financial Crimes Commission (EFCC) had to wait till the end of his tenure to charge him to court for money laundering.
Joshua Dariye was also elected under the Labour Party platform as Senator for Plateau central in April 2011 after earning a toatl of 189,140 votes ahead of Dawuda Gowon who earned 160,106 votes.
On March 28, 2015, he was also re-elected as senator representing Plateau central senatorial district.
It was also said that Dariye decamps to APC (All Progressive Congress) in 2018.
His net worth is unknown for now, check back later.