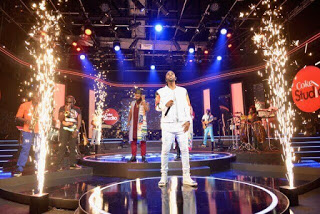 Jason Joel Desrouleaux popularly known as Jason Derulo was recently featured on the 9th episode of coke studio Africa 5 as an international guest for this year.

The singer displayed a highly captivating and energetic performance during the show but little is been known about him, so here are 5 things we discovered about Jason during the show.
1. The first time he made a song in Africa was on coke studio Africa season 5. Jason revealed this when he was asked how he feels about making music with Africans.
2. His hit song "In my head" started out as "In my bed" before he actually changed to the former. Jason told Coke studio artistes how he wrote the song at the age of 19.
3. He was born Miramar, Florida, United States.
4. He has awards like: Teen Choice awards, Youtube music award, CMT Music award
5. Jason Derulo is also a dancer. He does not just have talent for music or song writing, he does well in entertaining the audience as well.