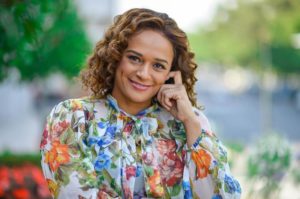 Isabel Dos Santos is an Angolan female entrepreneur, engineer and investor with numerous investments in several high profile companies in Angola and abroad.
She is one of the most successful female entrepreneur both in Angola and Africa at large.
She is top class business woman who already got for herself stakes in banking, diamond and telecom industries in her native country.
She is a distinguished African socialite known for her expensive lifestyle while being seen chilling with important personnel which include the likes of Paris Hilton and Cara Deleving at top notch events.
Isabel dos Santos Profile
Date of Birth: April 1, 1973
Place of Birth: Baku, Azerbaijan
Mother: Tatiana Kukanova
Father: Jose Eduardo dos Santos
Spouse: Sindika Dokolo (m. 2002)
Children: 3
Isabel is the co-founder of Unitel which provides over 50,000 jobs to her countrymen.
She has been able to build an empire comprising of conglomerates across multiple industries and in turn being rewarded with more enough things to account for with her tireless efforts.
Early Life & Background
Dos Santos was born on April 1, 1973 in Baku, Azerbaijan SSR.
She is the eldest daughter of Jose Eduardo dos Santos, Angola's former president and his first wife, Tatiana Kukanova. Her father's parents are from Sao Tome and Principe.
She is of multi-ethnicity; she can speak English, French, Italian, Portuguese, Spanish and Russian fluently.
She had schooled in UK where she attended Cobham School in Kent and later obtained a degree in electrical engineering at King's College, London.
Career
Dos Santos had held management positions in quite a number of companies listed on European stock exchanges.
She began to work as a Project Manager Engineer in a joint venture by Jembas and Rodiel, a leading waste management and recycling facility.
She launched her first business, a restaurant named "Miami Beach" at the age of 24.
She has been able to spread her tentacles which led to creation of numerous holdings in her native country and abroad alike.
She was also appointed by her father as chairwoman of Sonangol, the Angolan state oil company, in June 2016.
Prior to that, she had invested in the biggest mobile phone provider in Angola, Unitel, in 2001.
She also founded in 2015, a retail cahin Candando with hypermarkets and shopping malls in Angola.
Personal Life
Dos Santos got married to Sindika Doko, a Congolese businessman and art collector in 2002 and their union is blessed with three children. She also resides in West London property with her husband.
They celebrated their 10th wedding anniversary in 2012. Both met each other while studying at King's College in London.
READ ALSO: Hajia Bola Shagaya Biography: Age, Husband, Net Worth, History & More
5 Inspirational Quotes By Isabel Dos Santos
If you hard working and determined, you will make it and that's the bottom line. I don't believe in easy way though.
I believe that goals are achieved when ambition is combined with skill and determination.
Extraordinary times requires extraordinary measures and extraordinary people.
Leverage your preexisting talents and knowledge. If you are going into a field that you know or have past experience with then you have a competition edge.
Be willing to assess yourself and determine exactly what it is that you are capable of doing best. If you have weakness in certain areas, develop them into strengths.
Controversy
There have been some controversy as regards Ms Dos Santo's wealth.
She was accused of being dishonest and involved in corrupt practices during her father reign for the period of 38 years.
It was even made known that her brother, Jose Filomeno dos Santos was remanded in custody in 2018 over $1.5 billion corruption issue.
However, her spokesperson was quoted by Forbes saying,
"Mrs Isabel dos Santos is an independent business woman and a private sector representing solely her own interests.

Her investments in Angolan and in Portuguese companies are transparent and have been conducted through arms-length transactions involving external entities such as reputed banks and law firms".
Isabel dos Santos Net Worth
Isabel dos Santos already boast of investment in numerous companies which include the likes of Unitel, Biano BIC, Zon Multimedia, Bianco BPI, Nova Cimangola 16, Santoro Finance, Esperaza, Efacec and so on.
She is one of the mots influential African female entrepreneur with an estimated net worth of $1.7 billion.
Contact
Website: isabeldossantos.com
Social Media Profile
Instagram: @isabel_dos_santos.me
Twitter: @isabelaangola