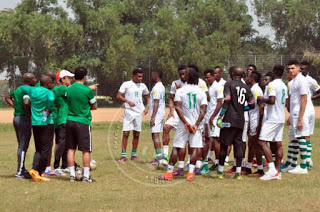 Listed below are the Five world cup Africa qualifying facts ahead of match day 2 fixtures this week;

1. Matches between Algeria and Nigeria have always produced some unexpected results, including a 2-0 away victory for the 'Desert Foxes' in a 1982 qualifier and a 5-2 away victory for the ,Super Eagles' in a 2006 eliminator.
2. Moroco boast of an unbeaten record in four qualifying matches against the Ivory Coast, winning 4-1 at home in a 1974 eliminator and having a draw in three subsequent meetings.
3. Islam Slimani of Algeria is the only one of the four leading scorers in the 2018 Africa qualifying competititon whose team are still in contention for one of five places in Russia to be filled by African Nations.
4. Cape verde may have nosedived from first to 18th in the African rankings this year, but they host Burkina Faso buoyed by a perfect record against team, winning 1-0 at home and 2-1 away in 2006 qualifiers.
5. The greatest result achieved by the Zambians was the thrashing of Cameroon 4-1 in 1986 qualifier of which the second leg was drawn, condemning the 'Indomitable Lions' to a shock early exit.