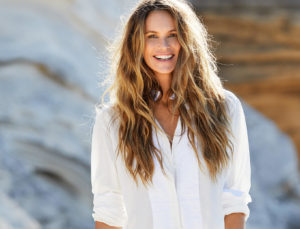 Eleanor Nancy Gow popularly known as Elle Macpherson is an Australian model, actress, television host and entrepreneur born on March 29, 1964.
Macpherson was born in Killara, New South Wales and grew up in East Lindfield, a suburb in the Sydney's North Shore.
She can speak English, French and a little bit of Italian and Spanish.
She attended Killara High school and also studied law for one year at the University of Sydney.
Macpherson is the daughter of entrepreneur and sound engineer Peter Gow and Francis Gow, a nurse.
She also has sister who is a businesswoman and environmentalist, Miriam Frances Gow popularly as Mimi Macpherson.
Her parents divorced when she was barely 10 years old and as a result had lived with her mother and two siblings.
Her name was changed from Gow to Macpherson following a mistake in registering at her new school.
Her success story couldn't be overlooked as she was one of the wealthiest models in the business. She marketed a series of her own photo calendars and starred in a successful fitness video. She was included in "50 Most Beautiful People" by People magazine.
She was simply known with the nickname "The Body" for her amazing height (5 feet 11 in) and body figure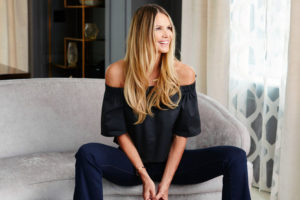 Career
Elle Macpherson was discovered on a ski vacation in Colorado and started her modelling career in 1982 with a television commercial for Tab which established her as a 'girl next door' figure in Australia.
She appeared on the cover of top magazines such as Elle, Marie Claire, Cosmopolitan, GQ, Time and so on.
Macpherson rose to fame when she appeared on Sports illustrated Swimsuit Issue for five times; 1986, 1987, 1988, 1994 and 2006.
She has walked the runways for the likes of Ralph Lauren, Calvin Klein, Valentino, Perry Ellis, Louis Vuitton, Michael Kors, Christian Dior and many others.
She also appeared in advertising campaigns for Victoria's secret, Omega, Pi9nko H&M and appeared in non-fashion advertising campaigns for Diet Coke, Impulse, Tab, Miller Lite, KFC and so on.
Macpherson has worked with top fashion photographers which include; Mario Testino, Ellen von Unwerth, Francesco Scavullo and so on.
She is known for being the founder, primary model and creative director for a series of business venture such as Elle Macpherson Inmates, a lingerie line and The Body, a line of skin care products.
Elle has been the host and executive producer of Britain' & Ireland's Next Top Model from 2010 to 2013 and also an executive producer of NBC's Fashion Star.
Macpherson delved into acting with her debut in the 1994 film 'Sirens' starring alonsgide Hugh Grant, Tara FitzGerald and Sam Neill.
She also starred in other movies such as The Mirror Has Two Faces, Batman and Robin, The Edge and many others.
Awards
Elle Macpherson has won numerous awards which include; Glamour Magazine's Entrepreneur of the Year in 2005, Everywoman Ambassador Award in 2007, Lingerie Designer of the Year in 2008 and World Career award from the Women's World Awards in 2009.
Personal Life
Elle Macpherson had dated Billy Joel in early 1980's before she met French fashion photographer Gilles Bensimon in 1984on a photo session for Elle magazine.
She and Gilles Bensimon wedded in May 1986 and divorced three years later.
She then began a relationship with London-based French financier Arpad Busson in 1996. Both have two sons together and had lived together in London until their separation in July 2005.
Macpherson began dating Florida based hotel heir and billionaire Jeffrey Scoffer, son of Donald Scoffer in early 2009. They got engaged in March 2013 and got marroed in July 2013 at the Laucala Resort in Fiji.
You can reach her on Instagram @ellemacphersonofficial