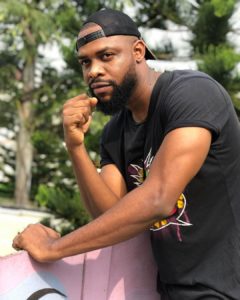 Efa Iwara is a Nigerian actor, rapper and story teller born on August 20.
Efa was born and raised in Ibadan, Oyo State.
He is originally from Ugep in Cross River State.
His father is a retired professor of Linguistics while his mother is a librarian.
He attended Staff School, Ibadan and International School, Barth Road, Ibadan for his primary and secondary education respectively.
He also obtained a degree in Geography from the University of Ibadan.
The rapper turned actor has carved a niche for himself in the movie industry with intriguing roles.
Career
Efa Iwara started his career as a rapper.
He had formed a music group called X-Factor with his 3 friends including the Knight house producer, DJ Klem. The group later split up and each went their separate ways.
He came through with his debut album in 2011. He shows off his versatility with his rap verses on his cover of Mo'Cheddah's single "If You Want Me".
READ ALSO: Seun Jimoh Biography: Wife, Movies & Pictures
His acting career all started after performing in Ola Rotimi's play, The gods are not to be blame
He has starred in several movies such as The Mens Club, Unbroken, Rumour Has It, Seven. Ajoche and so on.
Watch Efa Iwara video for the song Obandi feat. Pelli:
Social Media Profile
Instagram @iamefaiwara
Twitter @iamEFAIwara