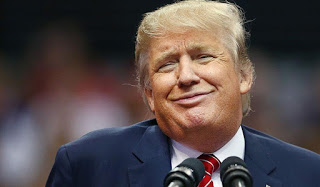 Doanld Trump is now the president of the United State as he assumed
office on January 20, 2017 with his Vice president as Mike Pence.

Here are the things you probably do not know about the president, Donald Trump.
1. Donald Trump's full name is Donald John Trump.
2. Donald Trump was born on June 14, 1946 (70 years)
3. Donald Trump was born and raised in Queens, New York city.
4. Donald Trump is an American bussinessman, television personality and politician.
5. He is the 45th president of the United State.
6.
Donald Trump was the fourth of the five children born to Federick Trump
(1905-1999) and Mary Anne Trump (nee Macleod, 1912-2000).
7. Donald Trump siblings include Maryanne, Fred Jr., Elizabert and Robert.
8.
Trump's older brother died, Fred Jr. died in 1981 from alcoholism,
which Trump says led him to abstain from alcohol and cigarettes.
9.
Donald Trump attended Fordham University in the Bronx for two years,
beginning in August 1964 before he transfered to the Wharton school of
the University of Pennsylvania.
10. Donald Trump received an Economics degree from the Wharton school of university in Pennsylvania in 1968.
11. Donald Trump has five children by three marriages, and has eight grand children.
12. Donald Trump's first two marriages ended in divorce that was publicized in the tabloid media.
13.
On April 7, 1977, Trump married his first wife, Ivana Zelnickova at the
Marble Collegiate Church in Manhattan of which they had three children;
Donald Jr, Ivanka and Eric. Trump and Ivana later divorced in 1990.
14.
On December 20, 1993, Trump married Marla Marples. They gave birth to a
daughter, Tiffany, on October 13, two months before their marriage. The
couple formally finalized their divorce in June 1999.
15. Doanld Trump married his third wife who happens to be a Slovene model, Melania Knauss on 22nd January 2015 and on March 20, 2006, she gave birth to their son named Barron Trump.
16. He took charge of his family's real estate and construction firm, Elizabeth Trump & Son in 1971, which he later renames as Trump organization.
17. At age 70, he is the oldest and wealthiest person to assume the presidency.
18. Donald Trump has been nominated twice for an Emmy Award and has made cameo appearances in 12 films and 14 television series.
19. Donald Trump also had his own daily talk radio programme called "Trumped".
20. In 1982, Trump was listed on the initial Forbes list of wealthy individuals as having an estimated $200 million fortune.
21. In 2003, Trump became the executive producer and host of the NBC reality show "The Apprentice".
22. Trump is the 5th person to become president without winning the popular vote.
23. Donald Trump became the first president without prior governmental or military experience.
24. Donald Trump lost his home state of New York, becoming the fourth candidate to win the presidency without his home state. Others include; James Polk (Tennessee) in 1844, Woodrow Wilson (New Jersey) in 1916, and Richard Nixan (New York) in 1968.
25. In 2106 annual billionaires' rankings, Forbes estimated Trump's net worth at $4.5 billion (113th in the United State, 324th in the world).
27. On November 8, 2016. Trump won the presiency with 306 electoral votes to Clinton's 232 votes.
28. On December 7, Donald Trump was named "Person Of The Year" by Time.
29. On December 13,he was named "Financial Times Person of the Year".
30. In December 2016, Forbes ranked Donald Trump as the second most pwerful person in the world after Vladmir Puttin and before Angela Merkel.