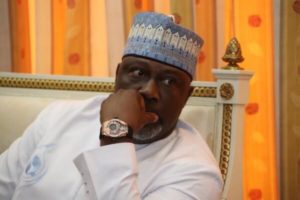 Daniel Melaye who is popularly known as Dino Melaye is a Nigerian politician, senator and member of the 8th National Assembly representing Kogi West constituency born on January 1, 1974.
He is a member of the ruling party 'All Progressive Congress (APC)' and also the chairman of the senate committee on FCT.
Dino's CV is just like a book, here are the 10 other interesting facts about him.
1. Dino Melaye was born in Kano state but originally hails rom Kogi state part of Nigeria.
2. He studied Geography at the Ahmadu Bello University, Zaria.
3. He was the leader of the National Association of Nigerian Students (NANS), African Youth Council and Commonwealth Youth Council.
4. He was appointed as the chairman presidential Advisory Council on Youth by Olusegun Obasanjo.
5. Melaye won Kogi senatorial West district in 2015 and also seconded the nomination of senator Bukola Saraki in his bid that led him to becoming the senate president.
6. Dino Melaye has been involved in a number of controversies such as being accused of operating a US bank account in violation to the Nigerian law and also a certificate scandal in 2017.
READ ALSO: Joshua Dariye Biography: Profile, Age & Net Worth
7. Dino Melaye is divorced. He was married to Tokunbo for 10 years and they had 3 children together. His wife filed for a divorce with claims of domestic violence. He was involved with another woman Alero Falope whom they parted ways after six months.
8. Dino is an author of a 600-paged book titled "Antidotes For Corruption: The Nigerian Story" as launched on May 15, 2017.
9. Dino has won numerous awards such as Globacom Youth Awareness and Develpment initiative, Icon of good leadership by Kogi Peoples forum, Most Vibrant Honourable member, Senator of the year in 2017 and 2018.
10. Dino's personal wealth includes 10 luxury cars such as Range Rover, Porsche Panamera, Mercedes G Wagon, Bugatti and so on. He has a mansion at Abuja with a Gold interior. Dino Melaye is one of the most influential politician in Nigeria with an estimated net worth of $10 million dollars.
You can contact Dino Melaye:
Twitter @dino_melaye
Instagram @dinomelaye
website: dinomelaye.com