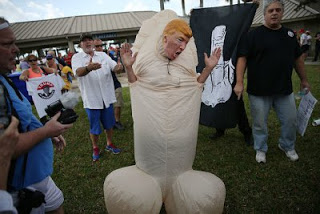 So many people are aware that the Americans are capable of doing things out of this world and i guess this is one of such things they can do.
Aman wore this penis looking costume with a trump facial mask of which he used to troll the presidential aspirant.
However, a group of protesters in Florida called the church of satanic activism hs been using this "cock costume" to troll around at various events after the discussion of his private part in March.
One of the church members said the group has been buying every penis looking image.
The church do have a mission. All they want is to promote freedom of speech and religion, especially in the aspect of the seperation of church and state.
See another photo below;