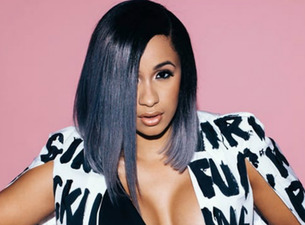 Cardi B biography, age, height, facts, life history, awards and nominations.

Facts About Cardi B (Key points)
Real Name: Belcalis Almanzer
Date of Birth: October 11, 1992
Age: 25 years
Nationality: American
Birth Place: The Bronx, New York, USA
Ethnicity: Mixed
Occupation(s): Rapper, song writer, televison personality
Genre: Hip Hop
Net Worth: $600,000
Who Is Cardi B?
Belcalis Almanzer known by stage name, Cardi B is an American rapper and television personality, bron on October 11, 1992 to a Trinidad mother and Dominican father.
Early Life & Education
Cardi B who grew up with her sister Hennesy Carolina in the New York, became famous after appearing on the VH1 reality television series, "Love &Hip hop New York".
As a youth, Cardi B became part of the bloods street gang at a very tender age of 16.
She attended Rennaissance High School but was unable to complete her education due to financial constraints.
She went on to work in a Supermarket but had to stop to become a stripper at night clubs as she couldn't cope with the job alone.
She further re-joined the school but had to leave because of her job.
Cardi B Musical Career
Cardi B who was a dancer and a stripper, started her music career in 2005 with Jamaican singer Popcaan in a single "Boom Boom".
She made her music video debut in the song "Cheap Ass Weave".
Her first body of work was a mixtape titled "Gangsta Bitch music, Vol1".
Cardi joined her first music label, Atlantic records and released her first single "Bodak Yellow" under the imprint.
The single "Bodak Yellow" recorded a massive success as it was ranked in the top ten of the U.S Billboard Hot 100 chart.
Cardi B Net Worth
Cardi B efforts has speaks for itself, having a successful career in modelling and musical venture. Her net worth is estimated at $600,000.
Awards And Nominations
2017 has been a major success for the singer.
She was nominated twice at the Bet Awards for Best New Artist and Best female hip hop artist.
At the Bet Hip Hop Awards, she was nomianted for Best Hip hop video and Impact track for her "Bodak Yellow", a song which alos won the single of the year.
Also, she won the Best Hip Hop artiste, Hustler of the year, Best Hip hop style and Best Mixtape at the same Hip hop awards.
Cardi B Social Media profile
Cardi B's fan base sky rocket ever since she gained fame with her single "Bodak Yellow". She has facebook fpollowers of 3 million, twitter 736k, Instagram 8.5m.
Connect with her on instagram and twitter @iamcardib
mbtTOC();