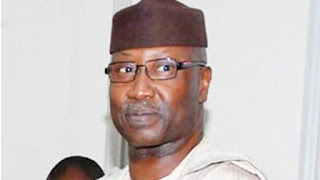 In case you don't know, Boss Gida Mustapha is the new Secretary to the government of the federation.

He was appointed by president Muhammadu Buhari to replace the former SGF, Babachir Lawal who was probed for financial misappropriation and therefore dismissed by the president based on the reports submitted by Professor Yemi-Osinbajo led investigation team.
Profile Plus Place of Birth
Mr Mustapha who hails from Adama state part of Nigeria, is a lawyer, politician and businessman with vast experience in both private and public sectors in managerial aspects of the economy. Apart from the managerial positions, he also has experience in the public Civil Sevice having spent so many years.
Educational Background
The newly appointed SGF had his secondary education in Hong Secondary school, Hong, Adamawa state and also North East College of Arts and sciences, Maiduguri, Borno state where he made his WASC and HSC in 1976.
Mr Mustapha attended Ahmadu Bello University, Zaria where he got his Bachelor of Law (LL.B) in 1979 and was immediately called to bar in 1980.
He did his National Youth Service Corps (NYSC) at the directorate of the legal service, Army headquarters where he was in charge of review of court marshall proceedings.
After his mandatory service, he joined Sotesa Nigeria limited, an Italian consultancy firm, as an Executive director in charge of administration. While he left ther in 1983 to join another law firm Messrs Onagoruwa & co in Lagos.
His journey in the Law practice continues to soar high as he was later appointed the MD principal counsel in the firm Messrs Mustapha & Associates with major interest in privatization, commercialization and liberalization of public companies/corporate and government parastatals.
Mr Mustapha was also appointed as a member of Interim Management Committee (IMC) of the defunct petroleum (Special) Trust Fund (PTF), where he served for 7 years (2000-2007).
Political Career & Appointment
With his law practice at hand and his love to serve the society at large, Mr Mustapha had found himself in politics at various points of his career.
He was formerly a member of the Federal Republic of Nigeria Constituent Assembly (1988-1989), Chairman People's Solidarity Party- Gongola State (1989-1990), State chairman Social Democratic Party – Gongola state (1990-1991) and was also a gubernatorial candidate for SDP in Adamawa state in same year (1991).
Mustapha was also the Deputy National chairman of the defunct Action Congress of Nigeria from 2010 to 2013.
Enough of politics, Mr Mustapha is also married with children and in addition to the above, he is a member of several professional bodies including but not not limited to; African Bar Association, Commonwealth Lawyers Association, International Bar Asociation.
With all these said, it is clear that the new SGF is surrounded with interest from the Law sector.
mbtTOC();