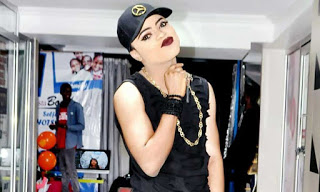 Bobrisky has become a household name in the social media world and he is fast growing into the entertainment industry without any hinderance.

Unlike many who have been stressing out on becoming a celebrity, Bobrisky is one who gained his fame on a platter of gold with very little effort, thanks to his bleached skin.
So many in the industry only know Bobrisky for his bleaching of skin and cross dressing. I really doubt if they do know other things about him.
Below is a before and after picture of Bobrisky: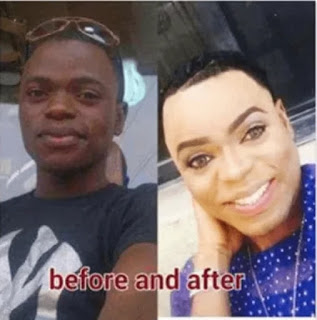 Bobrisky before and after picture
Well if you care to know, below are the 15 things to get to know him better.
1. Bobrisky real name is Okuneye Idris Olarenwaju
2.He was born in 1992 in Ebutte Metta, Lagos.
3. He is a native of Ijebu-igbo, Ogun state.
4. Bobrisky mother died in 2008 and his Dad is an aged retired transporter.
5. Bobrisky finished his secondary school education from King's College in Lagos state.
6. He attended University of Lagos (UNILAG) for his tertiary education.
7. Bobrisky have a Bachelor's degree in Accounting from UNILAG.
8. Surprisingly Bobrisky's name, Idris is of muslim religion but he is certainly not practicing the religion.
9. He is from a Polygamous family and he is the youngest child of the family.
10. Bobrisky became popular for involving in same sex relationship even when the Nigerian constitution had declared 14 years for the offence.
11. Bobrisky loves to dance and had made more money teaching choreography as a part time job when he was in school.
12. Bobrisky first got popular in campus when he won the award for best dressed male in his faculty and the best dressed male in the University of Lagos.
13. Bobrisky is also the most searched individual from October to November 2016.
14. Bobrisky is also an entrepreneur who makes money in selling lightening body creams.
15. Bobrisky also run a snapchat account where he makes money off his latest trends.
However, Bobrisky recently featured in his frist ever yoruba movie titled "Ojuloge Obirin". You watch it here.