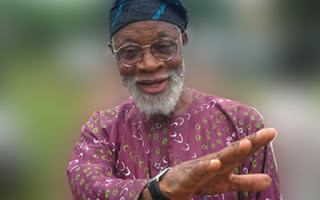 Here's a check into Professor Akinwunmi Ishola bio and profile.

It was a sad moment and a huge loss when the author, actor, playwright and producer, Professor Akinwunmi Ishola died in his home in Ibadan on Saturday, 17th February 2018.
Before his death, he was a Nigerian actor, dramatist, culture activist and scholar. He is known for his writing and his work in promoting the Yoruba culture.
He has actually lived a fulfilling life having impacted greatly the Nigerian literary and film community.
He was known for his books which includes; Efunsan Aniwura, Belly Bellows, Orisa wo lo n gun orikowe?, Madam tinubu, Ogun omode, Efunroye tinubu and many others. He was also known for his work Oleku.
Here are the other 5 things to know about him.
1. Akinwunmi Ishola was born in December 24, 1939 in Ibadan.
2. He attended Labode Methodist School and Wesley College.
3. He studied French at the University of Ibadan.
4. He arned an M.A in Yoruba literature from the University of Lagos.
5. He wrote his first play Efunsetan Aniwura when he was a student at the University of Ibadan.
6. He started his academic profession as a lecturer in Obafemi Awolowo University and was appointed a professor in 1991.
7. He was also a visiting professor at the Univeristy of Georgia, USA.
8. He died on the 17th of February 2018 and survived by a wife and four children.