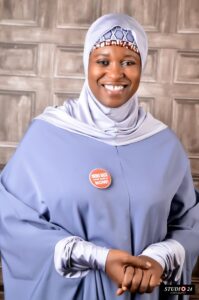 Aisha Yesufu is a Nigerian political activist and entrepreneur born on December 12, 1973. She is well known for her confidence to stand up against any form of injustice in the country.
She is the co-convener of the Bring Back Our Girls Movement, a campiagn for the kidnapped Chibok girls.
She also led the End SARS Movement, a movement against the brutality by the Special Anti-Robbery Squad.
Aisha Yesufu Profile
Date of Birth: December 12, 1973
Place of Birth: Kano State, Nigeria
State of Origin: Etsako, Edo State
Nationality: Nigerian
Education: Bayero University, Kano
Occupation: Activist, Entrepreneur
Spouse: Aliu (m. 1996)
Children: 2
Net Worth: Not Estimated
Early Life & Background
Aisha Yesufu was born and raised in Kano, northern part of Nigeria and originally hails from Etsako tribe in Edo State.
She attended a very expensive private secondary school as her parents had worked so hard to ensure that they all went to school.
She had revealed to PUNCH that her father, a Higher National Diploma holder, was doing well financially until 1984 where he lost everything under the Buhari military administration.
She had a very different upbringing as she wasn't born with a silver spoon.
"Where I grew up in Kano State can be compared to a ghetto, in fact, some people call it the Ajegunle of Kano where you have a lot of drug users, street children, almajiris, and using drugs was very normal over there. If you were not into drugs in that area, you were seen as an odd person."
"By the time I was 11 years old, I did not have any female friends because all of them had been married off but I wanted to be educated and leave the ghetto." She said.
She went to Uthman Dan Fodio University in 1992 but left due to crisis and got enrolled at the Ahmadu Bello University, Zaria to study medicine. She left again after the University was closed down for the murder of a professor. She eventually completed her tertiary education at the Bayero University in Kano where she studied Microbiology.
Career
Aisha had participated in lots of protest right from her school days. Here's what she has to say in one of her interviews:
"For me, activism has been part of me all my life. I am somebody that stands up against injustice because I have a 'big mouth.'"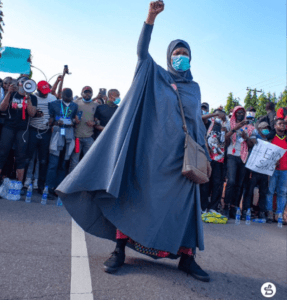 She became known for her campaign for the Bring Back Our Girls Movement and had led the protest for "ENDSARS" movement in the country.
Yesufu is also an entrepreneur who has been into business since 2000. In her words:
"After my schooling, I went into business, I have never worked for anyone in my life and I never intend to. I have been doing business since 2000; I started my business after school and it became my main focus."
She is the owner of Oceangate Distribution Service which is well known for importing Alim Tomatoes. She also established Aliyyah and Amir Ventures Limited, trading and distribution of general merchandise and raw materials in Northern NIgeria.
Personal Life
Aisha Yesufu got married to her husband, Aliu in 1996 and their union is blessed with two children, a son and a daughter. She got married at the age of 24 while in the University.
Here's what she said:
"Most of my mates were almost grandmothers when I married at 24."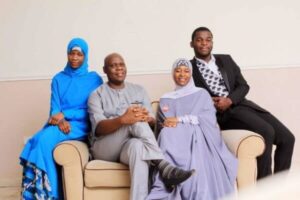 She met her husband on December 13, 1996, they started dating in August 1997 and got married eight months after.
She met her husband at her uncle's bachelor's party, the very first party she attended in her life. Her husband and her uncle are friends and he was at the party as the chairman on the occasion and till date, her family members still call him chairman according to her.
Her husband, Aliu is a chartered Accountant and has been in the sector for than 30 years.
Aisha Yesufu Gallery
Social Media Profile
Instagram: @aishayesufu
Twitter: @AishaYesufu