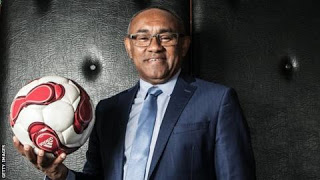 Ahmad Ahmad biography, age , facts, profile and everything you need to know.

Biography (Key)
Full name name: Ahmad Ahmad
Date of birth: 30th December 1959
Age: 57 years
Place of birth: Mahajanga, Madagascar.
Occupation: Politicain, football administrator.
Nationality: Madagascar.
Ahmad Ahmad is the president of Confedeartion of African football, who took over from the Caameroonian, Issa Hayatou with emerging 14 votes at the election held at Addis Ababa, Ethiopia.
Prior to this, Issa Hayatou has ruled the African football continent for almost 29 years with four years of being unopposed. Even at that the cameroon man was still interested in the position before being cut out by Ahmad wwith 34 to 20 votes.
Ahmad Ahmad who was also part of the CAF executive committee, had played for club des Finances de Antananvarivo and AC Sotema Mahanjanga both in Madagascar in his younger days but was unfortunate not to be selected as part of the national team.
Since 2003, he has been president of Madagascar's football association before he became the Vice president of the Malagasy senate after he was elected in 2015.