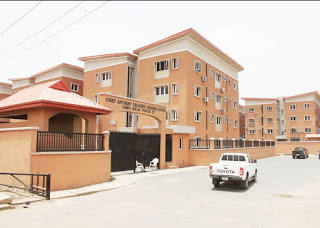 The centre of excellence and metropolitan city of Lagos is
one place virtually every Nigerian wishes to live in. But the cost of living –
especially renting a home, can make you back off and decide to live elsewhere
as they are doubled compared to other places in Nigeria.
It's no news that places on the Island like Ikoyi, Victoria
Island and Lekki are the most sought after places in Lagos because they are
fine, highly developed and hold some of the best hotels in
Lagos. But then one must 'cut a coat according to size'. So below I am
going to be telling you some great but yet affordable places you can live in
Lagos.
·
Ikeja
Ikeja is the state capital of Lagos State. It is a well
planned, clean and quiet residential and commercial town with shopping malls,
pharmacies and government reservation areas. The Murtala Mohammed International
Airport is located in Ikeja. It now boasts a shopping mall, Ikeja City Mall,
which is the largest mall in the Mainland of Lagos State and also has a cinema.
·
Yaba
Yaba is a suburb located in Lagos Mainland LGA. There are
many institutions of higher learning in the area like Queen's College, the
Nigerian Institute of Medical Research, the Yaba College of Technology, Igbobi
College, the University of Lagos, the Federal School Science and Technical
College, and the Federal College of Education. Yaba has one of the busiest
market sites in Lagos, known as Tejuosho Market, Nigeria.
·
Surulere
Surulere is a residential and commercial Local Government
Area located on the mainland of Lagos. It is home to the Lagos National Stadium
(capacity 60,000) built in 1972 for the All-Africa Games. One of the most
popular places in Surulere is Ojuelegba. It is known for its crowded setting
and regarded as one of the busiest places in Lagos. It connects the city's
mainland with Lagos Island and Victoria
Island.
·
Ogba
Ogba, about five kilometres west of Ikeja, is a densely
populated area with a mix of housing for high and low income earners. Rents at
the top end are lower than in Allen Avenue and Omole Estates. Ogba is located
at the heart of Lagos metropolis and is therefore easily accessible by bus and
taxi. Ogba has a popular Sunday market patronized by people from all over
Lagos, an evening/night market and a handful of shopping malls. Small hotels,
guest houses, eateries and drinking bars provide the only real relaxation in
the area.
·
Maryland
Maryland is a residential and commercial area on the
mainland of Lagos. It is located close to Ikeja and the Military Cantonment. The
area is quiet compared to other places in Lagos with several housing estates.
The Maryland mall is opening soon.
·
Apapa
Apapa is a Local Government Area in Lagos, located to the
west of Lagos Island. The region of Apapa lies near the mouth of Lagos lagoon,
and contains ports and terminals for various commodities such as containers and
bulk cargo, houses, offices and a small old disused railway station. It also
houses some refineries like the Bua Group. It also has commercial offices of
many shipping, clearing and transportation companies. Other notable buildings
include the Folawiyo Towers. Apapa houses the headquarters of the Nigerian
newspaper Thisday.
·
Festac
Town
Festac Town is a federal housing estate located along the
Lagos-Badagry Expressway in Lagos State, Nigeria. Its name is derived from the
acronym FESTAC, which stands for Second World African Festival of Arts and
Culture that was held there in 1977.
The Nigerian government invested substantial sums of money
and resources into building Festac Town, which has state of the art electrical
generators, police and fire stations, access to public transportation,
supermarkets, banks, health centres, public restrooms, and postal services
.
·
Iyana
Ipaja
Iyana Ipaja simply means the road that has branched off to Ipaja
town in Yoruba language. The area now known as Iyana Ipaja was historically
inhabited by the Mosakus, Alaagbas, Okis and the Alaguntans. Iyana Ipaja is in
the Alimosho Local government of Lagos State. Other areas around Iyana Ipaja
are Abule Egba, Akowonjo, Agege, Egbeda and
Ikeja
.
·
Magodo
Magodo is a place in Kosofe Local Government Area, Lagos. It
lies toward the outskirts of Lagos in close proximity to Ikeja and Ojodu
Berger. Magodo is basically a residential area that is known to be home to some
affluent people of society.
A great place to shop is the Ketu Market where all kinds of
fresh foods and ingredients can be bought while the Ikeja City Mall located
close to the area creates an avenue for people to catch some fun.
The
Writer, Akinsiku Hellen is a Tech-savvy and seasoned Communications Expert with
extensive knowledge of media production (both traditional and online media),
messaging, communications and dissemination techniques.
With great flair for writing, her most powerful
weapon is a pen because it allows her to express herself and draft her ideas.
She has published over 350 articles on the web spanning across but not limited
to various scopes like travel, food, health, business, fashion