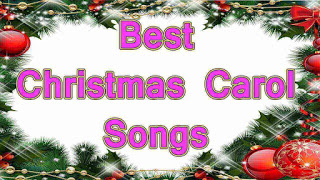 Even when there are variety of christmas songs available. we still bring you seven of the most important once you should be able to sing at the first mention.

Christmas is fast appraoching and it is in few days. I know so many people are already making preparations for the big day as it is a special day for everyone as it sets love in the atmosphere for different kinds of gifts.
Christmas is an annual festival for celebrating the birth of Jesus Christ which is dated 25th December, it is really worth celebrating.
Below are the seven christmas songs we thought you should know:
1. Jingle Bells
This Christmas song was written by a German vocal group known as "Boney M" and created by the German producer, Frank Farian.
The group which was formed in 1976, gained their fame in the disco era. the lyrics of the song reads; Jungle bell Jingle bell, Jingle all the way"….it is a cool and lovely song.
2. Mary's Born Child
This christmas song which was written by Jester Hairton is widely performed by various artistes withe the best cover of the song being from the German based group "Boney M.".
3. The Little Drummer Boy
This is a christmas song written by American music composer, Katherine Kennicott Davis in 1941.
It was first recorded by the Trapp family and later popularized by Harry Simeone Chorale.
4. Santa Claus Is Coming
This is a christmas song written by John Federick Coots withe first singing on Eddie Cartor's radio show in November 1934.
It has been covered by ver 200 artistes across the globe including the likes of Mariah Carey, Frank Sinatra, Bruce Springsteen, The Crystals and Jackson 5.
5. Silent Night
"Silent night, Holy night…" this christmas song was composed by Franz Xaver Gruber and since then it has been recorded by so many musicians acroos the world.
6. We Wish You A Merry Christmas
This is a christmas carol song which was originally written by Adeste Fideles.
This particular song always sound like a poem to me and find it so meaningful.
7. 12 days Of Christmas
On the first day of christmas my true love sent to me A partridge in a pear tree…the lyrics reads
It is a christmas carol song that tries to describe a series of gifts on christmas.
8. We Wish You A Merry Christmas
This is one of the most popular christmas song among kids, singing and miming to it like never before.
It's originated from the west county of England by Weaver.