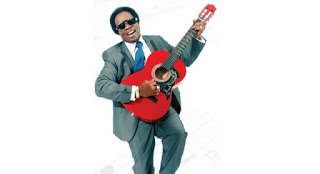 Sir Victor Uwaifo biography, profile, songs, history and major achievements all at a glance.

Sir Victor Uwaifo is a Nigerian high life singer, song writer, sculptor and musical instrument inventor, who was born on 1st march 1941 in Benin city, Edo state part of Nigeria.
Biography (Key Points)
Full Name: Sir Victor Uwaifo
Date of Birth: 1 March 1941
Nationality: Nigeria
Occupation(s): Singer, Song writer, Sculptor
Genres: High life
Instruments: Piano, Saxophone, Flute, Percussion, Guitar
Record Labels: Hypertek digital, 960 music group
Who Is Sir Victor Uwaifo
Sir Victor Uwaifo is a Nigerian high life singer who was known for his hit songs like "Guitar boy" and "Mami water" which acording to him was inspired by an encounter with a mami water (Mermaid), while relaxing at the beach in Lagos.
Educational Background
Sir Victor Uwaifo had his secondary education in both Western boys high school, Benin and St Gregory College, Lagos.
He attended Yaba College of technology (YABATECH), Lagos where he studied graphics and won a scholarship as best student.
He also obtained a Bachelors degree in Fine and apllied arts with a first class honour and also a masters degree from the University of Benin.
However in 2009, he was given a honorary doctor of letter from the sam University and also appointed a visiting professor to the American University, California, U.S.A.
Musical Career
Sir Victor Uwaifo who started playing Guitar at the age of 12, was influenced by listening to gramophone records of Spanish and Latin American music.
While he was at St. Gregory's college. he played for Victor's Olaiya's all stars band and upon graduation he got a job with the Nigerian television authority (NTA) before forming his won band 'The Melody Maestros' in 1995.
The band then released "Joromi" which became a hit song in Nigeria and other parts of the West Africa region.
During that year, he recorded many songs as a solo artiste which includes: "Oko no mu me", "Police", "Akugbe" and so on.
His major breakthrough in the music industry came when he signed up with Philips label in 1965 and had so many hits like 'Joromi" and "Siwo Siwo".
The song "Joromi" was so much appreciated among fans as they admire his talent and ability to play the guitar with both his feet and his tongue.
In 1969, Sir Victor Uwaifo launched a new beat called "Shadow" and was immediately accompanied by a new dance known as "Shadow", a mixture of Akwete and twist.
After launch of shadow, the Maelody Maestros went on tour to many cities in Nigeria.
Sir Victor Uwaifo made history in Nigeria when he won the first Golden records in Nigeria and West Africa for his song "Joromi" in 1996.
In total, Victor Uwaifo had 12 Golden records till date and had travelled to many other African and European countries including, Ghana, Cote d'Ivoire, United States, Russia, Japan, Spain, Canada, Rome, Hungary, France, United Kingdom.
Apart from dishing out hit songs, he is also an inventor of the double neck "Magic guitar" with 18 trings which rotates 360 degreesat the speed of sound.
Recently, Victor Uwaifo experiemented with the fusion of hip hop and high life sound in his album titled "Colabo 2012" where he featured the new generation musician like 2face Idibia, Dare Art Alade, Henryn Sax,Ekhator, Kunle Ayo, Tobi Adgoke.
Recogniton And Major Acievements
With his unique talent and contributuons towards the development of the creative arts in Nigeria, Sir Victor Uwaifo was recognised by the federal governmennt adn awarded with a National honour of the Member of the Order of Nigeria (M.O.N) by the then president, Shehu Shagari in 1983.
He was also appointed by the honourable commissioner of Arts, Culture and Tourism in Edo state.
Internationaly he is cited in the Grove dictionary of Music and Musicians, 1983 edition, documented in the "Who's who in Nigeria", "Who's who in Africa", "Who's who in the commen wealth", and "Men and women of distinction in the commen wealth".
He is also an honorary member of the Biographical Advisory Council, Cambridge, England.
mbtTOC();