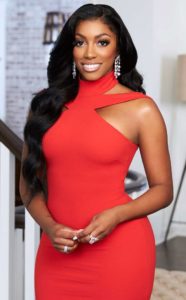 Porsha Dyanne Williams popularly known as Porsha Williams is an American television personality, model, actress, entrepreneur, singer born on June 22, 1981.
Porsha was born to African American parents; Hosea Williams, II (father) and Diane T. Williams (mother) in Atlanta, Georgia, United States.
She attended Southwest Dekalb High school and obtained a degree in business information technology at the American InterContinental University in Schaumburg, Illinois.
Quick Facts About Porsha Williams
Full Name:                            Porsha Dyanne Williams
Date of Birth (Age):              June 22,, 1981
Place of Birth:                      Atlanta, Georgia
Nationality:                           United states
Height:                                 1.70 m
Weight:                                64 kg
Siblings:                               2
Net Worth:                           $800,000
Porsha has a younger sister named Lauren and a brother named Hosea. Her grandfather is the late Hosea Williams, a prominent civil rights activist.
Career
As an actress, Porsha is known for television series such as; The Real Housewives of Atlanta, The Rickey Smiley show, Star and so on.
Aside acting, she is also a singer, having released her debut single "Flatline" through the Itunes Store on March 17, 2014.
She also appeared as a video vixen in Lil Scrappy's music video for the song "Some Cut".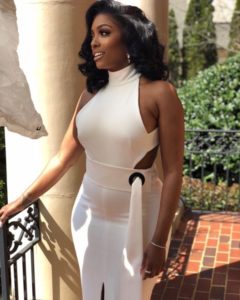 As a model, she has appeared in promotion campaigns for the likes of 'Go Naked Hair' and 'Naked Lingerie Line'. She also modeled for a 'pin-up' calendar for the 'Atlanta Dymes'.
As an entrepreneur, Porsha owned a daycare facility. She launched a line of hair care products in 2013.
Personal Life
Porsha Williams was married to football player Kordell Stewart in May, 2011 in an elaborate wedding ceremony which was filmed and broadcast for the 'WE tv' television series' 'Platinum Weddings'. The couple later divorced in 2013
She got engaged in October 2018 to the businessman, Dennis Mckinley, less than a year of dating. She revealed on September 19, 2018 that she's expecting a child. The beautiful actress had her baby shower early march.
Net Worth
Porsha Williams net worth was estimated at $16 million before her divorce from her ex-husband, Kordell Stewart in 2013.
After the divorce, Porsha net worth was estimated at $500,000 in 2016 as she did not receive any alimony from her husband.
Presently, Porsha Williams is one of the most influential American actress with an estimated net worth of $800,000.
Social Media Profile
Twitter – @Porsha4real
Instagram @porsha4real