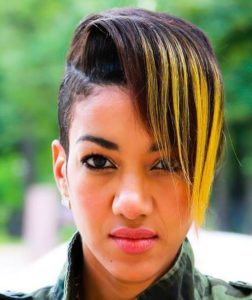 Nyanda Janelle Thorbourne who is simply known as Nyanda is a Jamaican-American recording artiste and songwriter born on April 15, 1978.
Nyanda is of mixed heritage, her father is a Jamaican while her mother is an American. She also has 3 sisters namely; Tasha Nailah and Candace Thorbourne
She's popular for being a member of the Reggae and Dancehall duo Brick & Lace alongside her sister Nailah Thorbourne.
Nyanda Thorbourne attended Campion College High School and studied Marketing at Miami Dade College and then Advertising & Theatre at the University of Miami.
Nyanda started her music career while singing in th church with her sister Nailah. As as then, their mother was part of the choir and their father was a professional gospel musician.
She and her sister formed the group Brick & Lace and got signed by Akon in 2006 to Konvict Muzik/ Geffen Records. They released their debut album 'Love is Wicked' in 2007 which gave rise to four charting singles "Never Never", "Get That Clear", "Bad to di Bone" and of course their biggest hit "Love is Wicked".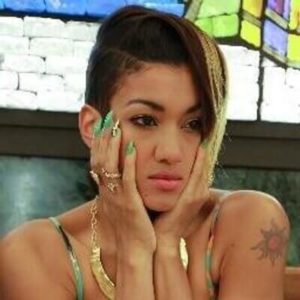 Nyanda launched her career as a solo artist in 2013 with the release of her promotional single "Trouble" produced by Black Lion. "Trouble" is a remix of Taylor Swift's multi platinum single "I Knew You Were Trouble".
She released her first official single "Slippery When Wet" as a free download on SoundCloud on March 8, 2013 and followed it up with the electro fueled house track "Cool & Deadly" with South African DJs Euphonik and Fresh.
Nyanda and her sisters formed the songwriting bloodline in 2010. They have written songs for the likes of Kelly Rowland, Christiana Aguilera, Nicole Scherzinger, Leah LaBelle and Arash. They are also responsible for the chart topping single "Follow the leader" by Wilson & Yandel featuring Jennifer Lopez.
Nyanda was appointed Goodwill Ambassador for REACH A HAND UGANDA in February 2014.
Nyanda Mp3 Songs List
Rodeo Wine
Young & Alive
Keep Me Up All Night
The Way U Love
All My Love
Put It On Me
I Love Sax
Cool & Deadly
Trouble
Social Media Profile
Instagram @nyandaybnl
Twitter @nyandaBnL
Facebook: Official Nyanda