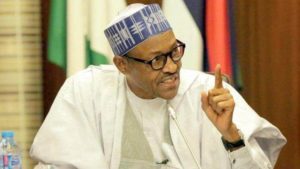 Muhammadu Buhari is a Nigerian politician born on December 17, 1942 in Daura, Katsina state.
He is the twenty-third of his father, Hardo Adamu, a fulani chief and was raised by his mother, Zulaihat after the death of his father when he was four years old.
Muhammadu Buhari is the president of Nigeria in office since 2015 after taking over from Goodluck Jonathan. He is a retired major general in the Nigerian Army and previously served as the nation's head of state from December 31, 1983 to August 27, 1985 after taking power in a military coup d'etat.
Buhari had his primary school education in Daura and Mai'adua from 1948 to 1952 before proceeding to Katsina midle school in 1953. He attended Katsina Provincial Secondary School from 1956 to 1961 of which he later went to the Nigerian Military Training School, Kaduna in 1963.
Buhari unsuccessfully ran for the office of president of Nigeria in the 2003, 2007 and 2011 general elections.
He later emerged as the presidential candidate of the All Progressive Congress in December 2014 ahead of the 2015 elections.
Of course, Buhari won the election while defeating the incumbent president Goodluck Jonathan.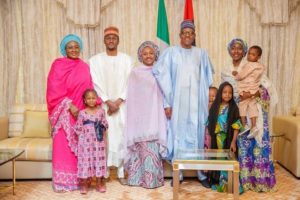 Buhari got married to his first wife, Safinatu in 1971 and had five children together, four girls and one boy. Their first daughter, Zulaihat (died in 2012 from sickle cell anemia) was named after Buhari's mother. Their other children are Fatima, Musa (deceased), Hadiza and Safinatu. Buhari and his first wife Safinatu divorced in 1988 before she died in January 2006 from diabetes.
Buhari got married to his second and current wife, Aisha Buhari and had five children together, four girls and a boy; Aisha, Halima, Yusuf, Zahra and Amina.
He has received numerous awards and medals such as Congo Medal (CM), Defence Service Medal (DSM). Gneral Srvice Medal (GSM). Global Seal of Integrity (GSO), Grand Commander of the Federal Republic of Nigeria (GCFR), National Service Medal and so on.
READ ALSO: Bukola Saraki Biography, Education, Profile, & Net Worth
Muhammadu Buhari who has houses and cars in Daura is one of the the most influential Nigerian politician and Nigeria president with an estimated net worth of $110 million dollars.
Social Media Profile
Twitter – @Mbuhari
Facebook – Muhammadu Buhari