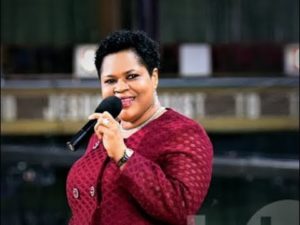 Evelyn Joshua is well known for being the wife of T.B Joshua, the pastor and founder of the Synagogue Church of All Nations (SCOAN) and Emmanuel TV, an international station based in Lagos.
Evelyn was born on December 17, 1968 and originally a native of Okala Okpuno in Oshimili North local government area of Delta state.
She was born into the family of Mr and Mrs Nicholas kabude. She has a twin brother who is no more.
She completed her primary education at Orile primary school in Oshodi, Lagos where she also had her secondary education.
Evelyn is a woman of virtue with a unique personality. Her simplicity and Charisma has been a charm on her husband.
Although, she's a wife of a pastor but that does not necessarily mean she is a pastor.
Evelyn met her husband at the age of 22 where it was made known that she got proposed to within forty-five minutes of their first meeting.
At that time, she was working at the Distilleries in Ota while attending the Assemblies of God Church.
Evelyn and T.B Joshua got married in 1990 and their union is blessed with 3 children.
Their first child and first daughter, Sarah, studied law at the London school of Economics and was called to bar in December 2015 and their second child, Promise, is studying International Relations and Politics at the London School of Economics.
Despite Evelyn being a native of Delta state and T.B Joshua from Ondo state, the two have been able to share similar interest.
Evelyn Joshua has continued to help her husband to move the ministry to a permanent site while working in her husband's ministry in the area of meetings and counseling where her husband is Unavailable.