Marsai Martin is an award winning American actress and producer born on August 14, 2004. She is well known for her intriguing role as Diane Johnson in the ABC comedy series "Black-ish". She was named by TIME among its "Time 100 Next" list in 2019.
Marsai Martin
Quick Facts
Date of Birth
August 14, 2004
Place Of Birth
Txas, U.S.A
Nationality
American
Occupation
Actress, Movie Producer
Height
5 feet 2 inches
Weight
49 kg
Net Worth
$1 million
Early Life & Background
Marsai Martin was born on August 14, 2004 in Texas, U.S.A.
She moved with her family to Los Angeles in 2013 to pursue her career in acting.
Career
Marsai got her first commercial for Choice Hotel at the age of 5. She came through professionally in 2014 where she got a role in the ABC comedy series "Black-ish.
She made her acting film debut in 2016 where she got a role in the film "An American girl story- Melody 1963: Love has to win".
READ ALSO: Christine Quinn Biography: Wiki, Age, Height, Husband, Net Worth & Pictures
She followed it up with her first studio feature in 2019 in the comedy "Little". She became the executive producer of the film at the age of 13, and that had made her the youngest person in Hollywood to produce a movie.
She has starred in several films such as; Nina, Fun Mom Dinner, Lemonade Mafia, Little and so on.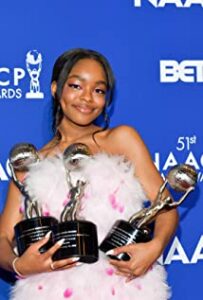 Awards & Nominations
Marsai has won numerous awards such as:
Supporting Young Actress at Young Artist Awards (2015)
Outstanding Performance by a Youth at NAACP Image Awards (2017)
Outstanding Supporting Actress in a Comedy at NAACP Image Awards (2019)
Youngstars Award at BET Awards (2019)
Oustanding Supporting Actress in a motion picture at NAACP Image Awards (2020)
Net Worth
Marsai Martin is the youngest Hollywood producer with estimated net worth of $1 million..