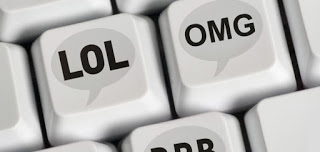 These days everyone wants to mingle on social media but some are left out as they tend to see some online terms as just mere jargons.

Yes they are Jargons but they intends to do you good when you want to quickly chat up with someone online without having to write long words.
Text message abbreviations and social media Jargons works hand-in-hand with each other. Lets say for example, you want to send text in a chat with someone, writng long words which can be shortened will not only waste your precious time but will also make the conversation boring.
Social media jargons are simply terms used on online.
Here we bring you the list of the popular text message abbreviations and social media jargons to help you stay connected.
10X – Thanks
2MOR -Tomorrow
2M2H – Too much to handle
2NTE – Tonight
4EVA – Foreva
AAF – As a friend
AAMOF – As a matter of fact
AAP – Always a pleasure
AAS – Alive and smiling
ABBR – Abbreviation
ACC – Anyone can come
ADMIN – Administrator
AFAIAC – As far as i am concerned
ASAP – As soon as possible
AH – At home
AKA – Also known as
AMA – Ask me anything
AMAP – As much as possible
AML – All my love
AIGHT – Alright
AIR – As i remember
AOTA – All of the above
AYOR – At your own risk
ATM – At the moment
AITR – Adult in the room
AYDY – Are you done yet?
AYW – As you wish/As you want
B2W – Back to work
BAE – Before Anyone else
BAO – Be aware of
BBIAM – Be back in a minute
BBL – Be Back later
BBS – Be back soon
BDAY – Birthday
BF – Boyfriend/ best friend
BFF – Best friends ever
BIF – Before i forget
BRB – Be right back
BRD – Bored
BRT – Be rigth there
BTW -By the way
CIAO – Good bye
CID – Consider it done
CM – Call me
CT – Can't talk
CUA – See you around
CUL – See you later
DAE – Doe Anyone else
DAM – Don't annoy me
DIY – Do It Yourself
DM – Direct mesage
DTS – Don't think so
DUR – Do you remember?
ENUF Enough
EOD – End of day/End of discussion
FAQ – Frequently asked question
FB – facebook
FBF – Facebook friend
FC – Fingers crossed
FYI – For your information
GF – Girlfriend
G2G – Got to go
GA – Go ahead
GAL – Get a life
GBU – God bless you
GFI – Go for it
GL – Good luck
GR8 – Great
GRATZ – Congratulations
HAU – How about you?
HBD – Happy birthday
HF – Have fun
IAC – In my case
IB – I'm back
IDK – I don't care
IDTS – I don't think so
IDUNNO – I don't know
IG – Instagram
IK – I know
ILYSM – I love you so much
IM – Instant message
IMO – In my opinion
IMS – I am sorry
IOW – In other words
IRMC – I rest my case
IRL – In real life
ISLY – I still love you
ISO – In search of
IUSS – If you say so
IWSN – I want sex now
IYO – In your opinion
JAS – Just a second
Jc – Just chcking
JDI – Just do it
JFF – Just for fun
JJ – Just joking
JLMK – Just let me know
JT – Just teasing
JW – Just wondering
K – Okay
KFY – Kiss for you
KIA – Know it all
L8R – Later
LD – Long distance
LMAO – Laughing my A** off
LMFAO – Laughing my freaking a** off
LWKMD – Laugh wan kill me die
LOL – Laughing out loud/ Lots of love
LQTM – Laughing quietly to myself
LYSM – Love you so much
MGB – May God bless
MFI – Mad for it
MAD – Mad over you
MIRL – Me in real life
MOO – My own opinion
MSG – Message
MTF – More to follow
MU – Miss you
MYSM – Miss you so much
MYOB – Mind your own business
NFM – Not for me
NM – Nothing much
NM – Never mind
NMH -Not much here
NP – No problem
NSA – No strings attached
NT – Nice try
NW – No way
OOH – Out of here
OTFL – On the floor laughing
OTP – On the phone
OTT – Over the top
OTW – Off to work
OYO – On your won
P2P – Peer to peer
PAW – Parents are watching
PCM – Please call me
PIC – Picture
PLS – Please
PLMK – Please let me know
PLU – Peple like us
PM – Private message
POAHF – Put on a happy face
POV – Point of view
PPL – People
PROLLY – Probably
PRT – Party/
PRT – Please retweet (Twitter slang)
PSP – Playstation portable
PTL – Praise the Lord
PTO – Parents teacher organizaion
PTMM – Please tell me more
QOTD – Quote of the day
ROTFL – Rolling on the floor laughing
RME – Rolling my eyes
RL – Real life
RIP – Rest in peace
RML – Read my lips
RT – Retweet (Twitter slang)
RTM – Read the manual
RUT – Are you there?
RX – Regards
RYB – Read your bible
RYS – Are you single?
SAT – Sorry about that
SB – Smiling back
SC – Stay cool
SDMB – Sweet dreamsmy baby
SEO – Search engine optimization
Selfie – A photo that is taken by yourself
SH – Same here
SIS – Sister
SITD – Still in the dark
SIT -Stay in touch
SM – Social media
SMH – Shaking my head
SO – Significant order
SOL – Sooner or later
SOT – Short of time
SS – So sorry
STW – Search the web
SYL – See you later
TAFN – That's all for now
TAU – Thinking about you
TBD – To be determined
TBH – To be honest
TBL – Text back later
Tc – Take care
TFS – Thanks for sharing
TGIF – Thank God is friday
THX – Thanks
TIA – Thanks in advance
TIC – Tongue in cheek
TMB – Txt be back
TMA – Take my advice
TMI – Too much information
TMOT – Trust m on this
TMTH – Too much to handle
TOJ – Tears of joy
TOU – Thinking of you
TT – Trending topic
TTG – Time to go
TTYL – Talk to you later
Ty – Thank you
TYT – Take your time
TYVM – Thank you very much
URW – You are welcome
UW – You're welcome
WAM – Wait a minute
WAS – Wait a second
WC – Welcome
WCA – Who cares anyway
WE Watever
WDYK – What do you know
WK – Week
WKD – Weekend
WITP – What is the point?
WRK – Work
W/0 – Without
WRT – With regard to
WRU – Where are you
WTG – Way to go
WU – What's up?
WWYC – Write when you can
WYD – What are you doing?
WYSIWYG – What you see is what you get
XME – Excuse me
XOXOXO – Hugs & kisses
YT -Youtube
YT – You there?
YTB – You are the best
YW – You are welcome
YTTL – You take too long
ZH – XSlleping hour
ZOT – Zero tolerance
OMG – Oh My God
YOLO – You only live once