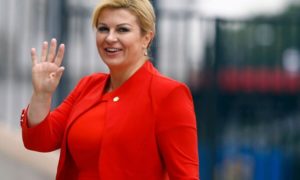 Kolinda Grabar-Kitarovic is a croatian politician and diplomat born on April 29, 1968.
She is the 4th and current Croatian president since 2015 after defeating the incumbent president Ivo Josipovic.
Kolinda Grabar is also the first and youngest woman to assume the office of the presidency.
Facts About Kolinda Grabar-Kitarovic
Date Of Birth:                      April 29, 1968
Place of Birth:                     Rijeka, Croatia
Nationality:                          Croatian
Father's Name:                   Branko Grabar
Mother's Name:                  Dubravka Grabar
Occupation:                        Politician, Diplomat
Education:                          Los Alamos High School, Faculty of Humanities and Social Sciences, University of Zagreb, Diplomatic Academy of Vienna, George Washington University. Kennedy School of government at Harvard University, Zagreb faculty of political science.
Height: 5 feet 8 inches
Weight: 70kg
Marital status: Married
Kolinda Grabar was born in Rijka, Croatia to Branko Grabar (Father) and Dubravka Grabar (Mother). She was raised in her parents village, Lopaca, north of Rijeka where the family owns a butchers shop and a ranch.
Here are the 10 other interesting things you don't know about her.
1. Kolinda Grabar practiced Roman Catholic and declares her adherence to traditional christian values.
2. She speaks English, Croatian, Spanish and Portuguese fluently and also have basic understanding of German, French and Italian.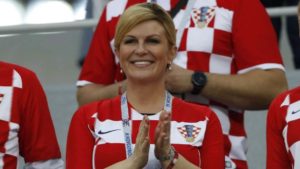 3. She obtained a Bachelor of Arts in English, Spanish language and Literature from the University of Zagreb and also a Masters degree in International Relations from University of Zagreb.
4. She also attended George Washington University as a Fullbright scholar and also received a Luksic Fellowship from the Kennedy school of government at Harvard University and was also a visiting scholar at the school of Advanced International studies at Johns Hopkins University.
5. She was preceded by Ivo Josipovic.
6. She held a number of governmental and diplomatic positions such as Minister of European Affairs and Minister of Foreign Affairs.
7. Grabar-Kitarovic got married to Jokov Kitarovic (an Engineer) in 1996 and their union is blessed with two children; Katarina and Luka.
8. She was named 39th most powerful woman in 2017 according to Forbes.
9. She revealed her favorite singer was Croatian nationalist singer Marko Perkovic.
10. Kolinda Grabar-Kitarovic is one of the most influential Croatian president with an estimated net worth of $100 million dollars.
Social Media Profile
Instagram – @predsjednicarh
Facebook – Kolinda Grabar-Kitarovic