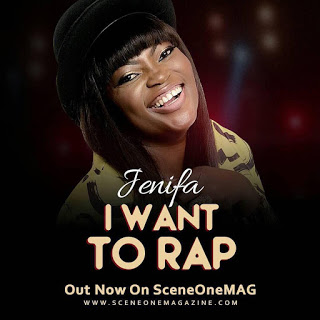 Nollywood actress, Funke Akindele's Jenifa drops her first ever single titled "I Want To Rap" from the Season 10 Episode 1 of her popular Tv series, Jenifa's diary.

The song "I Want To Rap" is filled with comic words from Funke Akindele as she continues to flow on the beat while chanting the chorus.
Funke Akindele has now joined the likes of her colleagues who also venture into music; Genevieve Nnaji, Omotola Jalade, Liz Anjorin, Dayo Amusa, Tonto Dikeh and many others.
Listen and don't forget to share.
Also check out reviews from fans below:
Well, we all know where these kinds end…gutter. Who remembers how Ibu and Ukwa deceived all of us? Lady Funke, your gregarious knack for money making is commendable but a knowledgeable person is one who knows something to the extent that he knows what he does not know. If you are knowledgeable, you will realize that acting is your best bet. Byeaaa.
Jez like those afonja people..
Always makes Nigerian probe… doing all the legit things in other to make money, unlike the Ipobs criminal girls doing prostitution everywhere. And their mumu bastard cownu seeking for attention.
Having listen to this rubbish called Rap or whatever, i can authoritatively say that Funke Akindele Bello is nothing but a big fool with her producer. What a dumbass!

Stick to your path and let musicians stick to theirs. If you are multitalented, we ll see u know, you wouldn't need to force it down our throats.

Genevieve tried it and woefully failed

Omotola tried it, invested massively in it and still failed unceremoniously.

Mama G(Patience Ozokwor) tried it and clandestinely left without a trace.

Dayo Amusa tried it with all media hype but found herself in Coventry dancing to her music alone and all by herself. What a chosen career!

Actors should stay away from music industry and save Nigerians all these avoidable
embarrassment.
What do you think?