Enisa Nikaj (born on March 5, 1996) well known as Enisa is an American recording artist and songwriter. She came to prominence for her cover songs to artists such as Adele and Hozier. She gained more exposure for her hit singles "Love Cycle" and "Dumb Boy".
Enisa
Quick Facts
Birth Name:
Enisa Nikaj
Birth Date:
March 5, 1996
Birth Place:
Brooklyn, NY
State of Origin:
Montenegro
Nationality:
American
Occupation:
Singer, Songwriter
Record Labels:
Atlantic Records
Net Worth:
$1 million
Early Life
Enisa was born Enisa Nikaj on March 5, 1996 in Brookylyn, United State. She originally hails from Montenegro.
Career
Enisa is a talented singer with music genres of Pop and R&B. She started her career posting covers of songs on YouTube in 2015.
She was able to develop her passion with music influence from the likes of Jay Z and Usher.
READ ALSO: H.E.R Biography: Real Name, Age, Songs, Net Worth & Pictures
She became known for her cover songs with the notable one being that of "Take Me To Church" by Hozier. The cover got thousands of views on YouTube.
She finally came through with her debut single titled "Burn This Bridge" in 2016.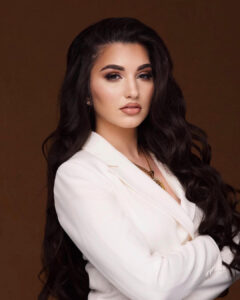 She got signed to Atlantic records in 2019 and had released numerous singles under the record label.
The year 2020 became a turnaround for her after she was well received by Nigerians following the release of her single "Dumb Boy" and hence the adopted Nigerian name "Eniola".
Enisa collaborated with the Nigerian Afro pop music star, Davido on the remix to her hit single titled "Love Cycle" in 2021.
Songs
Burn This Bridge
Reunite
Something Beautiful
Wiat for Love
Love Cycle
Dumb Boy
Count My Blessings
Love Cycle (Remix) Feat Davido
Net Worth
Enisa is an American singer with an estimated net worth of $1 million.
Social Media Profile
Twitter: @IAmENISA
Instagram: @iamenisa
Facebook: EnisaNikaj