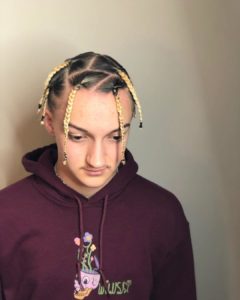 Backpack Kid whose real name is Russell Horning is an award winning American dancer, rapper and social media sensation born December 19, 2001.
Backpack Kid was born and raised in Laurenceville, Georgia, United States.
He also grew up alongside his younger sister, Jill and two other older brothers.
Horning has a height of 5 ft 7in.
Career
Backpack Kid started posting on his Instagram account "Majestic Cat Lover" as far back as 2014 where he showcases lots of dance short clips.
He later changed his Instagram account to "_got_barzz" and then to "thebackpackkid".
He came to limelight for his "Floss" dance while wearing a backpack.
He performed the "Flossing" dance first at a summer camp in June 2014. The dance is often done by swinging your arms from side to side around the body while simultaneously shaking the hips and maintaining a deadpan facial expression.
He became more popular in December 2016 after the music star, Rihanna posted a video of him dancing on her Instagram page. However, the video got over 8 million views while also earning him new followers.
As a music artist, he's well known for his songs;"Drip On Boat" and "Flossing" alongside DJ Suede The Remix God.
He also came through with his debut extended Play, Swag Pack Kid in December 2018.
On the other side, the "Backpack Kid" became a household name after his performance alongside Katy Perry on the single "Swish Swish" at the May 2017 Saturday Night Live. He also showcased his dance moves on the song's official music video.
Backpack Kid has also featured in other numerous music video such as; Rolex by dance duo Ayo & Teo, Blac Youngsta's "Hip Hopper" video and so on.
READ ALSO: Brent Rivera Bio: Age, Height, Sister, Movies, Net Worth & Pictures
Awards & Nominations
Backpack Kid has received numerous awards such as; Shorty Award for Best in Dance, Kids Choice Award for Favorite Dance Trend.
Net Worth
Backpack kid is one of the most influential American dancer with an estimated net worth of $500,000.
Watch below Backpack Kid music video for "Balenciagas" featuring Smooky Margielaa:
Social Media Profile
Instagram: @thebackpackkid
Tik Tok: @Thbackpackkid