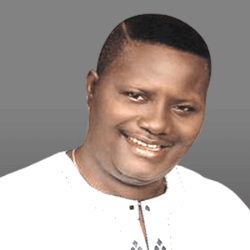 Antar Babatunde Laniyan who is simply known as Antar Laniyan is a Nigerian actor, movie producer and director born on May 26.
He is known for his action roles in most yoruba movies.
He is from Osun state part of Nigeria and had grew up at the Army Baracks, Ilaro.
He attended a Muslim primary school and Baptist secondary school in Lagos before he proceeded to University of Ibadan where he obtained a Bachelor of Arts degree in Theatre Arts.
He started acting at an early age around 1976 while doing stage dramas but began professionally in 1981, about 37 years ago under Ben Tomoloju. His first role was a "Major general" in the film" Everybody want to know during his days at the Kakaki Art squad.
Antar Laniyan has also starred in several films including Amiwo, Arewa, Durodola and Sango, a film scripted by Wale Ogunyemi, produced by Obafemi Lasode.
Antar was the director of the first episode of the award winning television soap opera 'Super story" produced by Wale Adenuga. He also directed "Oh Father Oh Daughter" produced by Wale Adenuga.
Antar Laniyan is married with three sons. One of his son, Ifeoluwa Laniyan had described his father in a recent interview with Vanguard that he is a firendly and a disciplinarian at home.
The talented actor has won numerous awards for his effor including The AMVCA, Yoruba movie awards and so on.
Antar Laniyan is one of the most influential Nigerian actor with a net worth of $3 million.
Social Media Profile
Instagram @antarthywill