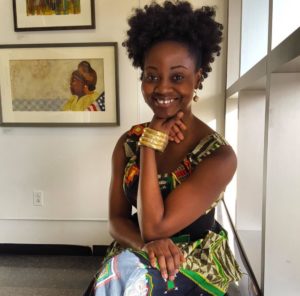 Adeola Eunice Oladele Fayehun who is popularly known as Adeola Fayehun is a Nigerian journalist born on July 6, 1984.
Adeola is the youngest child and has five older siblings born to her parents, Rev. Dr. Solomon Ajayi Oladele and Margaret Ibildaun Oladele, worked as missionaries in Nigeria.
She specializes in discussing current geopolitical, social and economic issues that affact the daily lives of Africans living on the continent and also known for a controversial 2015 on-street interview where she and fellow Sahara TV journalist Omoyele Sowore asked Zimbabwean president Robert Mugabe when he would be stepping down from office.
Here are 5 other interesting things about her.
1. Fayehun comes from the Yoruba ethic group of South western Nigeria.
2. She's known for her news show on Youtube "Keeping it Real with Adeola which is produced and published on the YouTube channe for SaharaTV.
3. She obtained a bachelor's degree in Mass Communications and Journalism from Olivet College and received a masters degree i broadcast journalism from CUNNY Graduate school of Journalism.
4. Fayehun founded the online resource, African Spotlight.
5. Adeola got married to Victor Fayehun in 2011. She and her husband created a non-profit foundation called KIRWA Foundation that provides aid to terminally ill in Africa.
6. Adeola Fayehun has received numerous honors including Outstanding Academic And Professional Achievement at 2008 Foreign Press Association, New York, Excellence in Jornalism for Democracy Award at 2014 Ethiopian Satelite News Network and Best One Woman Show at 2015 CUNNY Graduate School of Journalism.
twitter @AdeolaFayehun
Facebook: Adeola Fayehun
Blog: AdeolaFayehun.com