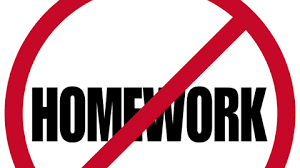 Despite the fact that school plays a crucial role in a child's life, it is still very important that the child takes a break from his or her education.
According to research, students are getting too much of extra assignments which in turn deprive them of knowing more about other aspects of life.
Anyway, lets try to get into details on why home work should be cancelled in school.
First of all, extra assignments can lead to stress on the part of the child. Based on my opinion, bombarding students with countless at school and at home would make them stressed out and possibly bring about anxiety if they fail to complete the assignment on time.
Student should be able to learn in a classroom setting and at the same time be able to have time to themselves in order to explore other things outside of the classroom. You know the adage that says "All work and no play makes Jack a dull boy".
Secondly, home work can be a burden to students most especially when they require time to rest and take their minds off school activities. They probably spent the whole day solving difficult math problems and memorizing long chapters, so they need to relax their brain so that they don't get exhausted.
Thirdly, home work can negatively affect the performance of students rather than improving their educational achievement.
It becomes more of counterproductive with the stress of having to complete home work every night.
Another reason why home work should be banned is lack of support. Most teachers fails to explain everything needed to solve the task during the class hours and the parents on the other-hand can't help with every task while some are even a busy type.
In conclusion, i hope the points are clearly stated on why home work should be cancelled in school from its negative impact on performance, down time at home, inability to explore other things, lack of enough time yourself and possibly the extra challenges it imposed on the students.
Credit: Bestexamportals