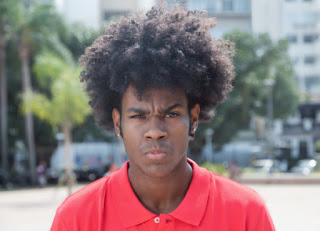 There is this general perception that man cannot be define by his place of origin but based on his behaviour cined from his personality and belief.

Men from Nigeria have defied this notion as they are charracteristics which are mainly attributed to them.
Well, some do have good behaviour while there are also the bad ones.
You will always find the average Nigerian men that are good to be generous, innovative, intelligent. They alos tend to dominate whatever environment they find themselves and in turn take charge when it is needed. If you must know, they are also good in bed.
The bad on the other hand tend to showcase non challant attitude which includes: heart breakers, deceitful, mean-hearted and often spen money on frivolities. These are the ones you will find spending money carelessly on random women.
While analyzing the bad and good qualites, there is a possibility that these Nigerian men only have these traits as a result of the way they were raised.
When men are being raised in such harmful notion, these can create probles for them and the society at large.
Below are the problematic things men have been raised to believe.
1. Monogamy Is A Common Thing
When men are raised with the notion that monogamy is a common thing among men and should often be overlooked, they tend to misbehave within the community.
They see folicking around with girls as such thing that should be enjoyed. Even when they are in love, they still feel they have the right to cheat and have baby mamas of which no one can question their authority as a man.
Men with this perception in mind are hardly bothered about women feeling when they are hurt. He expects women to accept it as a reality of life because he belives monogamy is a myth.
To be straight with you, seeing monogamy as a myth indicates the level of weakness of that man.
2. A Man should Not Cry Or Show Emotion
This is another myth Nigerian men are raised to believe. Most of these men usually have the perception that crying is only for the women and often see as weakness on men part.
Nigerian men are born with the mentality of "Boy's don't cry", rather they should express themselves through anger or spirited acts.
With these act, their heart bbecomes so hardened and lacking empathy.
The truth is both men and women are humans, as women cry, it is also okay for men to cry. He has hormones and can feel things just like the women.
Crying doesn't make you less of a man, infact you can scream in fear, feel jealous, crave a maasage and so on.
3. He is More Intelligent Than The Woman
This is one of the most common myth rocking the mind of Nigerian men. They belive that they are more intelligent than the women. One of the question that usually op up when being outshine by a woman is "Why will a girl get higher mark by you", i know you must be laughing right now as this statement you will always hear among students in school.
The thing being a man does not make you more intelligent, everyone is born equal.
4. It Is Normal For A Man To Have Pride
An average Nigerian man is always self centered, pompous and feelin on top of the world. This is usually the case as he is made to beleive that he needs to have pride to be a man.
So maintain this pride, he begins to live a fake life, acting like he has something when he got nothing, engaging in dubious activities just for the sake of meeting up to expectations.
As a man, this will not help you in any way, it will only bring you down and even go bankrupt faster.
So you just have to take life easy, move slowly and thread carefuly, progree will usually come if you work hard.