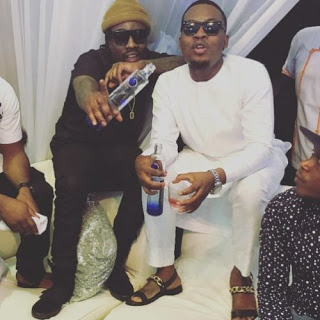 YBNL boss, Olamide has revealed the main reason he dropped out of school.

Long ago, it has always been rumoured that Olamide quit schooling because of his poor academic performance while he was in school.
Olamide who dropped out of Tai Solarin University of education, Ijebu-Ode, has cleared the people's specualtions as he said he dropped out of school as a result of his father not able to fund his tertiary education.
The singer disclosed this while giving a motivational speech at the second edition of the Summer Camp organised by Ogun State Government for secondary school students in the state.
Olamide who told the students how he was focused and determined to achieve greatness despite being a drop out, also urged the students to remain focused, determined and disciplined if they are to also achieve their ambition in life. He also told them to always put God first in everything they do.
In his words:
"I want to tell you that you must always put God first in everything you are doing. Be focused and there is nothing you cannot achieve, if you are discipline."
Olamide told the students that he infused Yoruba dialects in his songs simply because he wants to promote Yoruba culture.
"I can never do without putting Yoruba lyrics in my songs, I belong here (Nigeria). It is a blessing to be a citizen of Nigeria."
The commissioner for Information and strategy, Mr. Dayo Adeneye, also addressed the students while assuring them that the government will continue to ensure that it gives due attention to education so as to improve its standard.
Mr Dayo alo said that the government invited Olamide to tell his success part of his story so that the students can learn from it, while expressing the hope that Olamide's speech can motivate the students and also prepare them for the future.