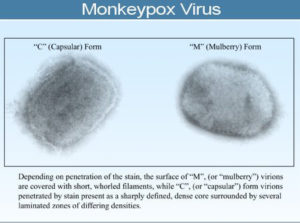 Monkeypox is usually a rare disease caused by the monkeypox virus which elongs to the am group of viruses such as smallpox.
It was first identified in 1985 by the state Serum institution Copenhagen, Denmark with the first case being recorded in Democratic Republic of Congo.
Facts About Monkeypox
Has a mortality rate between one and 10 per cent
Th rare disease is caused by a virus
Cases are mainly reported in central and west Africa
The infection is spread through close physical contact
Symptoms include fever, muscle aches, headache, backache, lymph nodes
A rash can develop often beginning from the face and spread
Here are the questions mostly asked about Monkeypox and the answers to them.
How does a person get Monkeypox?
Monkeypox can be contacted from an infected animal or through animal bite or direct contact with the animal's body fluids. It can also be spread from one person to another.
What are the symptoms of Monkeypox?
Monkeypox begins with fever, body aches, feeling tired and so on.
Difference between Monkeypox and Smallpox?
Th main difference between symptoms of smallpox and monkeypox is that monkeypox causes lymph nodes to swell while smllpox does not.
How is monkeypox transmitted?
Transmission of monkeypox virus occurs when a person comes into contact with the virus from an animal, human, or materials contaminated with the virus.
What Type of virus is monkeypox?
Monkeypox virus is a double stranded DNA, zoonotic virus and a species of the genius Orthopxvirus in the family of Poxviridae. It is one of the human orthopoxviruses that includes variola, cowpx and vaccinia viruses.
When was monkeypox first discovered?
Monkeypox was first discovered in laboratory monkeys in 1958.
How Do You Treat monkeypox?
There are still no specific treatments for monkeypox infection but the outbreaks can be controlled, Although it has been said that smallpox vaccine, cidofivir, ST-246 and vaccinia immune globulin can be used to control a monkeypox outbreak.
Source: Wikipedia.org, cdc.gov, vidhealth.org