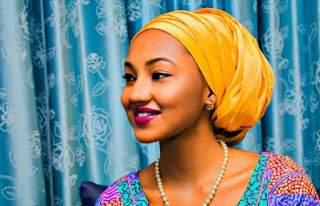 Nigerian president daughter, Zahra Buhari has received about 30 LV boxes customized with her name ZBI (Zara Buhari Indimi)
from the family of her husband to be, Ahmed Indimi.
Dailypost had report that the 30 LV bags, which allegedly cost about one hundred and twenty thousand pounds, are said to have been delivered to her in 30 exotic cars.
The 21 year old daughter of president Muhammadu Buhari, is getting married to Ahmed the son of Nigerian billionaire and oil tycoon, Mohammed Indimi.
However, according to the tradition of the nothern part of Nigeria, the groom's family is expected to buy the boxes known as Kayan lefe for the bride. The boxes usually contain diamond and gold jewelry, designer shoes, bags, perfumes, cosmetics among others.
A fiance can get from 1 to 50 boxes just to show how rich and capable he is.