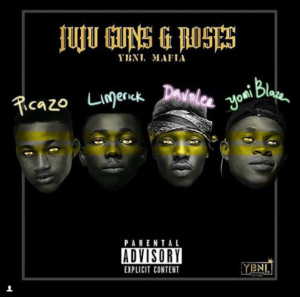 You are about to get some heavy punch lines as YBNL Mafias, Picazo, Yomi Blaze, Davolee and Limerick collaborates on a new rap single titled "Juju, Guns & Roses".
Its been barely few hours since Picazo was signed to the label along with Yomi Blaze and fans can't simply get enough of this talented young rapper.
Picazo Rhap is truly a talent to reckon with in the industry having showcased his talent in a series of freestyle on instagram but you can't under estimate the lyrical prowess of his counterparts, Yomi Blaze (also known as Ika), Davolee (Known as Ileka) and the Pesin crooner Limerick.
Juju, Guns and Roses is a hardcore rap song which sees the YBNL Mafia take turns to deliver a monstar bars.
Guess its been a long time since the Nigerian music industry experience a strictly rap combos like this.
Listen and tell us what you think.
DOWNLOAD MP3 YBNL Mafia (Picazo, Yomi Blaze, Davolee, Limerick) – Juju, Guns & Roses