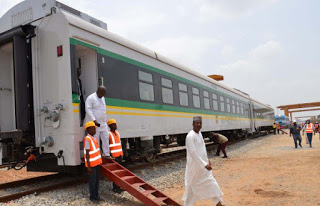 The federal government of Nigeria has announced that works would commence on the construction of a standard rail line from Lagos to Ibadan beginning from next month.

The Managing director, Nigerian Railway corporation, Mr Fhidet Okheria, who made this disclosure during the weekend said, "The Chinese government promises to release its counterparts funds by the end of the month. And the project should therefore start in the next one month."
The project which has been awarded to the China civil engineering construction corporation, is being jointly funded by the Nigerian and Chinese governments, which will be about $1.5bn (N458bn).
Okheria also said, "The new line when completed in 18months, would co-exist with the old narrow gauge rail line"
Okheria also told Punch that the arrangements were being finalised to start the construction of the Lagos-Calabar and Kaduna-Kano rail lines.
The Minister of Transportation, Mr Rotimi Amaechi, who signed on behalf of the federal government, has said the cost reduction for the projects was achieved after the contract was renegotiated by both parties.
He further explained that the contract was awarded by the regime of former president GoodLuck Jonathan for $11.917bn, but when they took over the ministry, they renegotiated with the CCECC and they succeded in reducing the contract down to $11.117bn of which they were able to save $800bn.
Amaech also said that the projects should be completed in 2 years, adding that the railways would be connected to the seaports.