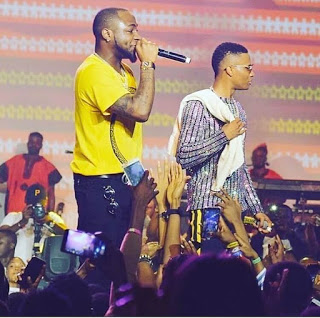 Everyone already know the allegedly beef with the two music stars, Wizkid and Davido but todays show had shown otherwise that the two are still friends as thy both dance and vibe to Davido's hit song 'FIA'.

Davido and Wizkid who many thought have having some sort of rivalry and battling for supremacy, were seen performing together at Wizkid's concert which took place at Eko hotel in Lagos.
Both as proved hey can still be best f friends as Wizkid joined Davido on stage to perfrom 'FIA'.
Earlier before now, Davido had revealed that he is not in any fight with anybody while receiving award at the Future awards Africa 2017 and Wizkid had also revealed in an interview with Sunday Sccop that he does not see Davido as a rival as he only focuses on making good music.
Watch the video of both as they perform on stage: