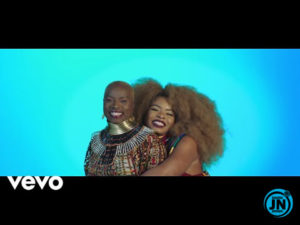 Is all shades of African music as Yemi Alade teams up with the Beninese singer, Angelique Kidjo on the video for "Shekere".
Just few weeks of serving the visual for the love theme single "Remind You", Yemi Alade seems not to slow down a bit as she enlist the talent of the Grammy award winner, Angelique Kidjo on the new video for "Shekere".
"Shekere" is one of the fans favorite off her recent body of wrk "Woman of Steel".
Truly, Angelique is a legend as she lends her amazing vocals which is simply out of this world.
Here is the lovely visual to the superb collaboration as shot and directed by Ovie Etseyatse.
Watch and enjoy below: