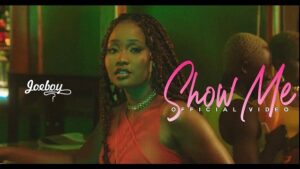 Joeboy releases the offical video for his recent single "Show Me".
The song "Show Me" already boast of massive airplay and positive reviews ever since its release. Not to mention the hype and trends that goes along with the song, here is a befitting video to set the record straight.
As taken from Joeboy's debut album "Somewhere Between Beauty and Magic", it is certainly one of the song that has got every music lover approval.
The visual to the song is definitely one that will keep you glued to the screen as shot and directed by Ademola Falomo.
Lyrics
how me that you want me
Show me that you need me
Tell me that you love me
And I go dey okay
Time dey go
Make we go
Sey I get you Issa goal
Ba mi fo
Ba mi jo
I'm not a player no be so oh oh
Make our body join body tonight
And I wan know if e dey possible oh oh ye
Watch and enjoy "Joeboy Show Me" video below: