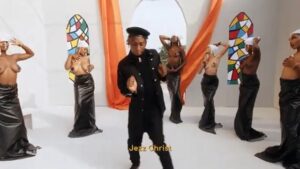 Bella Shmurda Rush (Moving Fast) MP4 DOWNLOAD: An exciting one from the stables of Dangbana republik as Bella Shmurda drops the visuals for his single "Rush (Moving Fast)".
With joint production by Larry Lanes and PBeats, Bella Shmurda thrill more with his amazing voice on the single "Rush".
The song is taken off his forthcoming project "High Tension 2.0"
The accompanied video was shot by Naya Effectz for Naya creative studios.
QUOTABLE LYRICS:
Dem say I'm living in a rush
Because am moving fast
Dem say my matter don cast
But me I no reply
Why dem asking me why
Why am always getting high
Maami i never reply
Cos High way thats my way
Jesus Christ, see your body define
Why are we feeling down
Life is Short so ginger yourself
Time, Chance, 50/50 life na dice
Its a lovely visual with creative mindset. Watch "Bella Shmurda – Rush (Moving Fast)" below: