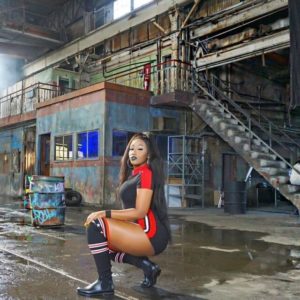 American born Kenyan singer, Victoria Kimani has revealed that she hasn't had s3x since 2017.
The "Show" crooner who took the music industry by storm five years ago under chocolate music record label, has been celibate since 2017.
She revealed in a video posted on her instagram account that she has never been intimate since she parted ways with her Nigerian ex Stameley Obiamalu.
"Since May last year, I have not had s#x with one person. So who is f*cking up? Is it me or is it dem niggas? Because I am ready, I have been ready to f**k. It's hard. It's like global warming," disclosed Kimani.

"It is a bad idea to date celebrities I have tried it one time in my life, it's hard because you have to start thinking about who is watching or who is paying attention. Honestly, I thought it was a good idea at first because we have so much in common like if I'm in the studio late they will understand that you are in the studio late.

"Because there are some guys who hear you are in the studio at 2 am they think you are with some guy. There are certain cool things like having many things in common but honestly, I don't want that. There are too many groupies. Yo! It's real. These guys have all the girls in the world at their disposal,'' she added.
Also speaking at an interview about her break up with the Nigerian video producer, Kimani revealed that she's not just ready for any relationship yet.
'Honestly, I feel like a virgin right now. My love life has actually been non-existent. I've not been in a relationship for like six months now and I haven't tried to bother like to try find someone else," added Kimani.