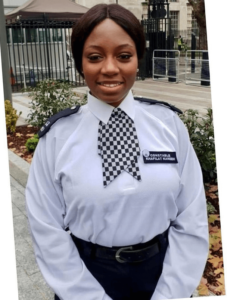 It has been said that Khafi Kareem, a Metropolitan Police officer, had appeared on Big Brother Naija despite not granted permission by her bosses.
According to the Sun, Scotland Yard said it had not granted her request to appear on the programme and that an internal investigation would be carried out.
Khafi, 29, had joined the show where she had s3x three times with fellow housemate, Ekpata Gedoni, 31.
Their romance has viewers gripped and one of her colleagues was quoted as saying: "She's a serving British police officer — it's outrageous.
She asked permission to go on the show but, when her request was refused, she went anyway. Other officers working with her are furious that she can just disobey orders and tarnish the reputation of the force."
A spokesman said: "The Met does not support the officer's appearance nor does she represent the Met whilst appearing on the show." The force added that any officer found to have breached police standards of professional behaviour could face misconduct proceedings."
It was also reported that Khafi earns N13 million per anum from her job before she left for BBNaija.
However, the Sky news presenter had said that having s3x on the show is not an issue but leaving without permission and probably getting pregnant from the s3x on the show might be the bigger challenge.
See video below: