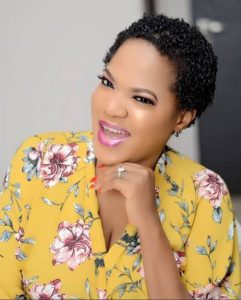 Nollywood actress, Toyin Abraham is definitely happy for the success of her movie "Ghost and the Tout".
Toyin Abraham is happy over the record sale of the movie and according to the beautiful actress, it has sold over 11 million more than 2018 highest selling movie.
While be overwhelmed with the turn out, she took to social media to express how she feels.
READ ALSO: Watch Toyin Abraham In Teaser For New Film "The Ghost And The Tout"
"The last six months and the months preceding it have been nothing short of fantastic".

"I got the new figure for The Ghost and the Tout and I almost cried. Not only have we sold more than the highest selling Nollywood movie this year, we have sold more than the highest selling movie this year by over 11million Naira.

"I'm overwhelmed and grateful for loyal fans, good support-system, individuals and institutions that keep believing in me."
However, the actress is obviously not relenting on her success as she's set push her latest movie "Seven and a half date" to the cinemas.