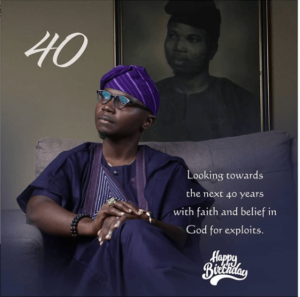 Comedian and father of twins, Teju Oyelakin popularly known as Teju Babyface turns 40 yesterday, January 20.
To mark the 40th birthday, the Nigerian comedian took to his instagram page to share some lovely photos with a powerful message.
Half time! Now let's do another 40, plus added time for past delays and set backs, l'oruko Jesu!'

And this… "My life is just starting, Giorgio Armani said "your 40s are the moment when you just start to become aware. It's just the beginning. I have always believed to confirm your thinking takes time. It takes experimenting. You have to confront different chapters of your life" A sese bere ni"
Recall that on welcoming his twins after 5 years, he wrote…
It wasn't the easiest thing as no one ever really expects to get married and not have children when they want them. During our waiting period, it occurred to me that before I got married, I had never thought that having kids could be a challenge. Then I started to think of what I might have done differently if I had actually imagined it back then.

When I got into it, my foremost thought was that God would get me out of it. There were days when we just went with the flow of things and believed in God's time and other days were low days. I felt like I was getting older and wanted the situation to be over. Really, people get married because they love themselves, not just to have children. However, these thoughts only come when one is feeling strong. When the days are low, other sentiments begin to creep in.